2. Vine Leaf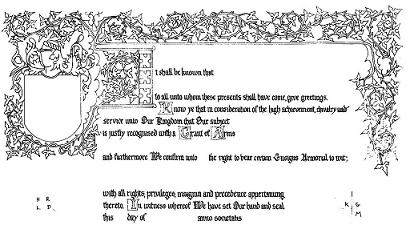 Background
The scroll is based on the GoA layout of Thomas Bell 1542, Tudor,(layout GoA2) all been done before so I decided to do another border.
Inspired by Vines GoA2 early 15th, Rome, Book of Hours Use of Rome, F.134v Illustration to the office of the dead.
I also used elements of the text supplemented by David Harris, Early Gothic . I changed the letter 'D' to 'I' and changed the internal vine work.
Calligraphy
Calligraphy was done using a Mitchell nib size 4, line spacing was 4mm, between lines was 6mm. Red and blue blocks of colour with scrolly white work can be added to the end of sentences. Rubication (red ink) can also be used. Capitals can be added for first letters of Names and optional Orders, they can have red, blue or gold background with red, blue or gold letters, with white line work.
Illumination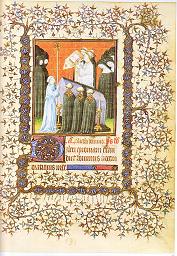 Illumination should follow the original illuminations, i.e. red, blue, gold leaves on blue and red stems with line white work. The letter should have a gold background.
A Grant of Arms comes with a Helm, torse and mantling. The Helm should be grey not metallic, side on. The Torse and Mantling should be the main colour and metal of the recipientís device. No ermines.
Wording of the text should go as follows.
It shall be known that (insert first name of King, Prince, King or Prince of the Kingdom of the West/Lochac
and Queen/Princess first name, Queen or Princess of the Kingdom of the West/Lochac.
Know ye that in consideration of the high achievement, chivalry and
service unto Our Kingdom that Our subject (insert recipientís full name)
Is justly recognised with a Grant of Arms (optional and admittance unto Our Order of the White Scarf, Lochac Company of Archers, Red wyvern, Cockatrice or Silver Pegasus)
And furthermore We confirm unto (insert him/her) the right to bear ensigns armorial to wit; (insert registered blazon)
With all rights, privileges, insignia and precedence appertaining
thereto. In witness whereof We have set Our hand and seal
This (insert day) day of (insert month) anno societatis (society year)
Leave space for signatures add titles thereunder.